The Art and Life of Karen Carrino
In 1972, a hit-and-run accident on New Jersey's Garden State Parkway killed nineteen-year-old Karen Carrino; her brother Michael, age eight; and a three-year-old friend Lisa Boudrie. Karen's Sister, Deborah, eighteen, survived.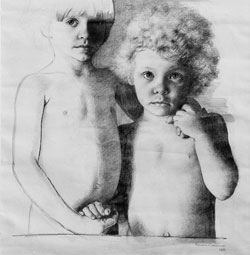 The Horrible tragedy cut short the life and career of a gifted and promising artist, for in her brief lifetime, Karen Carrino created an extensive body of work; most of it devoted to children. Her drawings and paintings reveal a depth of feeling and a level of craft that are remarkable for such a young artist.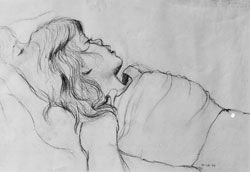 Karen Carrino saw children as lively and truthful, natural and unhidden, in a way that adults often aren't. She captured the distinctive beauty and personality of each child. In her work there is no distracting background, nothing to stand between the viewer and the child; it gives us the chance to attend to the child as seriously, and respectfully, as she did. The only lessons she had received were from her eighth-grade and high school art teachers. The rest of her craft came as naturally to her as the feelings she expressed through her art. She worked in all media - graphite, charcoal, colored pencils, watercolor, oil - and, shortly before her death, she had embarked on sculpting. She saw art as stemming from clarity of vision; if you could see well, you could draw, she believed. Her short life was astonishingly focused, and her clarity of vision and power to express it are evident to all who view these amazing works of art.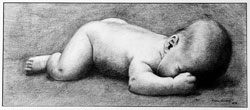 Shortly after the accident, Deborah's distraught father sold most of Karen's artwork and awarded the proceeds to two art students at her high school. In 1990, Deborah launched a search for Karen's work, eventually locating nearly three hundred pieces. The fruits of that labor of love resulted in a book about Karen's life and work. The Spirit of Children, was published in September, 2000 by Prometheus Books. With this collection of 124 works on the subject of children, Deborah Carrino celebrates her sister's life and great talent, and pays tribute to the promise and potential of a life cut short.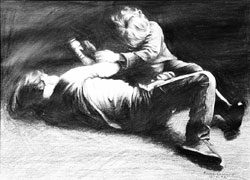 Karen's work has been the subject of three exhibitions that have generated local and international media attention from CNN, the CBS Evening News, the New York Times, the Associated Press, People Magazine, and The Today Show.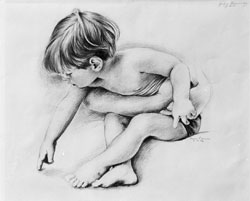 Deborah Carrino, an artist in her own right, has had her work shown alongside Karen's at The Paterson Museum in Paterson, NJ. She continues to search for what remains of Karen's art.